59x76 cm Kalachakra (SOLD OUT)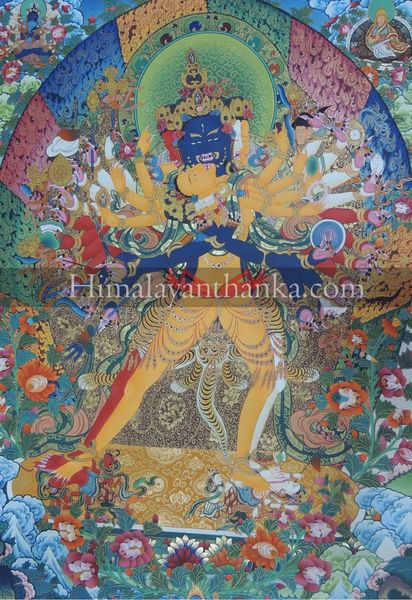 59x76 cm Kalachakra (SOLD OUT)
Status : SOLD But can be commissioned on request.

This beautiful hand painted thanka is of kalachakra deity. The thanka is done by master with intense care using 24k gold and colors.Each and every delicate part in thanka has been done finely for instance gradation, coloring, linings, gold paintings , face making and so on.
Kalachakra refers to the time cycle and is a complex and secret teaching in Tibetan Buddhism though the teaching given by HH Dalai Lama to the immense audiences in India is the most renown one. Kalachakra is portrayed in different forms such as an alphabetical or a mandala or a deity. Likewise sand kalachakra mandala drawn by monks on the occasion of kalachakra teaching or other auspicious occasion is also one of the most popular form.

Please Note
that the actual colors of this thanka painting may vary due to differences in the monitor resolution.
if the size available is not suitable for your shrine or place please do not hesitate to provide us your preferred size then we could commission as per your need and requirement.
if you wish to have displayed thanka is bulk then please mail us at himalayanthanka@gmail.com or bijay2moktan@yahoo.com for more detail.
Thank you for visiting us. NAMASTE
Reviews