48x67 cm Bajrasattava Thanka(SOLD OUT)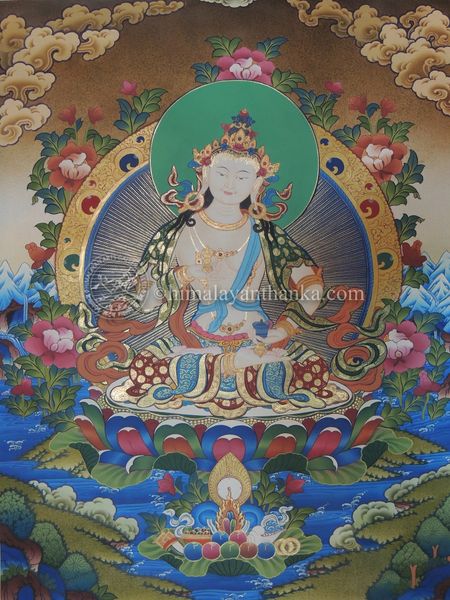 48x67 cm Bajrasattava Thanka(SOLD OUT)
Status : SOLD But could be commissioned on request.

This beautifully painted thangka/thanka is of Bajrasattva /Vajrasattva done by a master with intense care using 24k real gold and color.
Vajrasattva is one of the supreme deity in Buddhism, most importantly in Vajrayana Buddhism and is venerated to eliminate spiritual impurities or purification.
He is represented in two forms, single and yabyum. He is usually white in color and sits crossed legged holding a bajra in his right hand with palm upward against his chest and a bell in his left resting on his lap.

If you wish to have silk brocade for this thanka visit Silk Brocading .
Note:

Please note that the actual colors of this thanka/Thangka Painting may vary due to differences in resolution.

If the size available here is not suitable for your shrine or place you want to keep please do not hesitate to provide us the detail about the size then we would commission as per your need and requirement.

If you want this Thanka/Thangka Painting in bulk please refer our "Wholesale" section or mail us at

himalayanthanka@gmail.com /

bijay2moktan@yahoo.com .
Reviews