82x56 cm (including brocade) Amitayus Thanka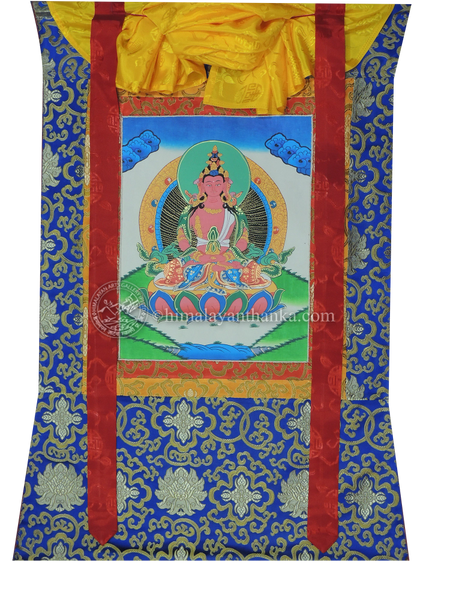 82x56 cm (including brocade) Amitayus Thanka
This beautifully painted thanka is of Amitayus done with intense care using gold and colors by a master.Each and every part of this thangka has fine details.

Amitayus is one of the most meditated Buddha in Mahayana Buddhism. He resembles Amitabha Buddha due to similar body color and postion however iconographically, they are presented differently.Amitabha Buddha is presented as a buddha whose two hands hold a black begging bowl in his lap instead of a long life vase in the case of Amitayus.

Amitayus is considered as long life deity and one of the important deity of the set of three deity of longevity : Amitayus, Whte Tara and Ushnishavijaya .Moreover he might be presented in different forms such as in the mandala either single or with consort or just a syllable portraying him.
Note:

Please note that the actual colors of this thanka/Thangka Painting may vary due to differences in resolution.

If the size available here is not suitable for your shrine or place you want to keep please do not hesitate to provide us the detail about the size then we would commission as per your need and requirement.

If you want this Thanka/Thangka Painting in bulk please refer our "Wholesale" section or mail us at

himalayanthanka@gmail.com/

bijay2moktan@yahoo.com .
Reviews