61x87 cm Avalokitesvara Thanka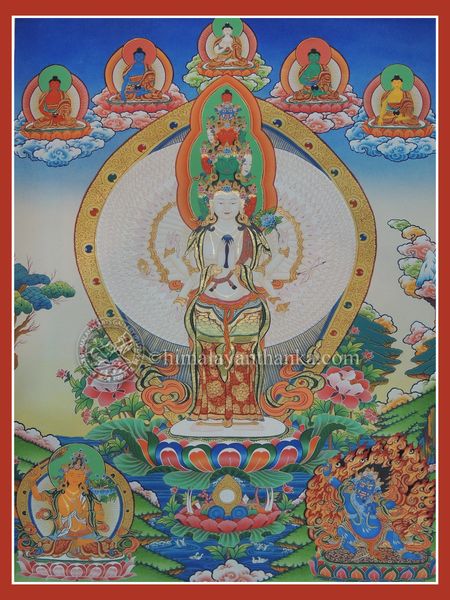 61x87 cm Avalokitesvara Thanka
This beautifully painted thanka is of Avalokitesvara, thousand armed chengrezi along five Buddhas on top and two bodhisattavas of knowledge and power i.e. Manjushree on left and Bajrapani on right respectively. Often a triad of Avalokitesvara,Manjushree and Bajrapani is known as Rigsum Gonpo.
This thanka / thangka is painted by a master with intense care using 24k gold and colors. Each and every part shows fine details.

Avalokiteshvara or Lokeshvara (lord of world),a significant compassionate bodhisattva who tirelessly work to liberate all sentient beings from samsara. In spite of his tremendous works still there were large number to be freed and served hence his head split into eleven pieces and arms into thousand arms with eyes in them to listen,see,reach and aid all the suffering beings.
His important manifestations are;

Chengrezig (four arms and a head).




Sahashrabhuj lokesvara (thousand arms and eyes and eleven heads).

Hayagriva (horse headed).
His mantra is the most popular one : "OM MANE PADME HUNG"

If you wish to have silk brocade for this thanka visit Silk Brocading.

Note:

Please note that the actual colors of this thanka/Thangka Painting may vary due to differences in resolution.

If the size available here is not suitable for your shrine or place you want to keep please do not hesitate to provide us the detail about the size then we would commission as per your need and requirement.

If you want this Thanka/Thangka Painting in bulk please refer our "Wholesale" section or mail us at

himalayanthanka@gmail.com/

bijay2moktan@yahoo.com .
Reviews