47.5x67 cm ( inlcuding brocade ) White Tara Thanka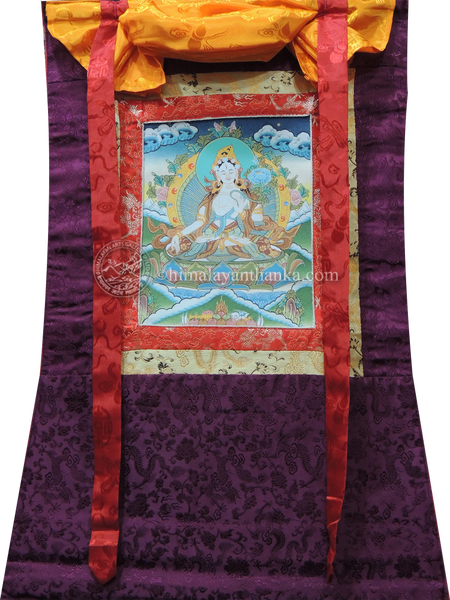 47.5x67 cm ( inlcuding brocade ) White Tara Thanka
Status : Sold
This beautifully painted thanka of White Tara.

White Tara,a female Bodhisattva specially known for compassion, longevity, healing and serenity.
Iconographically,she is white in color symbolizing purity and possesses 7 eyes (third eye on forehead, one on each palm and each sole),which symbolise wisdom and her ability to view the suffering of sentient beings.Meditating on White Tara pacifies illness, evil spirits, negative karmas,mental obstruction that constrain obtaining enlightenment.
Her mantra is : Om Tare Tuttare Ture Mama Ayuh Punya JNana Pustim Kuru Svaha !
Note:
Please note that the actual colors of this thanka/Thangka Painting may vary due to differences in resolution.

If the size available here is not suitable for your shrine or place you want to keep please do not hesitate to provide us the detail about the size then we would commission as per your need and requirement.

If you want this Thanka/Thangka Painting in bulk please refer our "Wholesale" section or mail us at

himalayanthanka@gmail.com /

bijay2moktan@yahoo.com
Reviews