46X64 cm Shakyamuni Buddha (SOLD OUT)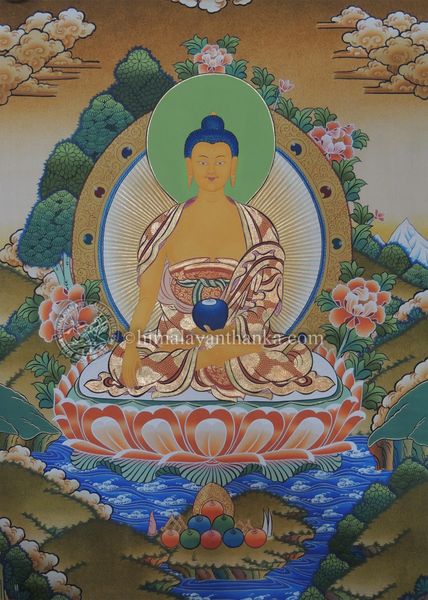 46X64 cm Shakyamuni Buddha (SOLD OUT)
STATUS : SOLD ( CAN BE COMMISSIONED ON REQUEST)
This beautifully painted thanka of Shakyamuni Buddha is done by a master with intense care using real 24 k gold and color.Each and every part shows fine details.

The term Buddha refers to the enlightened one. Shakyamuni Buddha was born nearly 2600 years ago in Lumbini, Nepal as a prince Siddhartha Gautama, son of king Suddhodhan and queen Mayadevi however he was raised by his aunt Mahaprajapati who got married to the king after the death of queen Mayadevi. He enjoyed luxurious and prosperous royal life till twenties. However at late twenties, during his excursion from the palace he encountered four signs that questioned him all the time they were an old man a sick person a corpse and monks. From so forth he was wandering in search of reasons and paths to get liberate form such suffering so he abandon his royal life including his young son Rahul and wife Yesodhara.
After six years of hardship meditation he attained enlightenment or buddhahood on the full moon day and discovered the reasons behind human suffering such discoveries is known as "Four Noble Truth" and the ways to get rid off such suffering is known as "Eight Fold Path", the essence of Buddhism.After that he gave his very first teaching to the five disciples in Sarnatha. This event in his life is well known as "Turning of Dharma Wheel ". Rest of his life ,he has been teaching and at the age of eight years old he attained Paranirvana in Kushinagar.

Discounts on bulk shopping!

If you wish to have silk brocade for this thanka visit Silk Brocading to give more traditional look.
Note:

Please note that the actual colors of this thanka/Thangka Painting may vary due to differences in resolution.

If the size available here is not suitable for your shrine or place you want to keep please do not hesitate to provide us the detail about the size then we would commission as per your need and requirement.

If you want this Thanka/Thangka Painting in bulk please refer our "Wholesale" section or mail us at

himalayanthanka@gmail.com /

bijay2moktan@yahoo.com .
Reviews