176x120 cm Master Quality 108 Green Tara Thanka (SOLD OUT)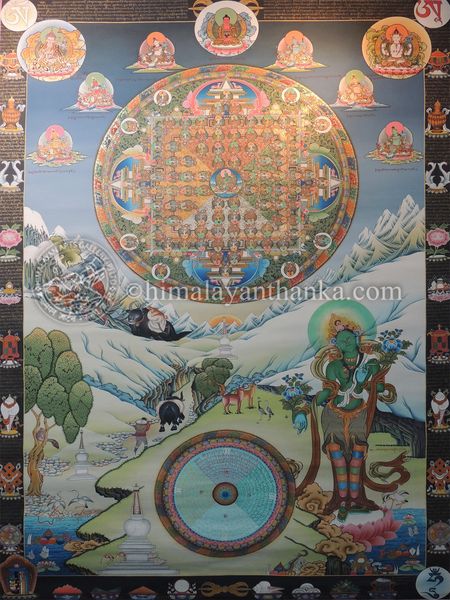 176x120 cm Master Quality 108 Green Tara Thanka (SOLD OUT)
STATUS : SOLD (CAN BE COMMISSIONED ON REQUEST)
This beautifully painted thangka of 108 Green Tara Mandala with mantras on its right and left border along 8 auspicious symbols is done with intense care using 24K gold and colors by a master. Each and every part of this thangka has fine details.
Green Tara is another prominent Bodhisattva in Buddhism who is considered as the mother of liberation, mercy and compassion who help her disciples overcome the obstacles and danger, mental and spiritual fear and anxieties and misery in the cycle of Samara. She is presented in green color which in Buddhism signifies activity and accomplishment.
According to the legend Green Tara is believed to have been incarnated as the Nepali princess,Bhrikuti-daughter of king Ansubarma who married to the Tibetan king Srong-brtsan-sgam-po.Furthermore,she is the one who played significant role in introducing Nepali arts and crafts in Tibet.

She has different manifestation mostly importantly;

1. set of 8 green tara
2. set of 21 green tara
Mantra of Green Tara is : OM TARE TUTTARE TURE SUWA !!

Note:

Please note that the actual colors of this thanka/Thangka Painting may vary due to differences in resolution.

If the size available here is not suitable for your shrine or place you want to keep please do not hesitate to provide us the detail about the size then we would commission as per your need and requirement.

If you want this Thanka/Thangka Painting in bulk please refer our "Wholesale" section or mail us at

himalayanthanka@gmail.com /

bijay2moktan@yahoo.com
Reviews