112x168 cm Buddha Life Thanka (SOLD OUT)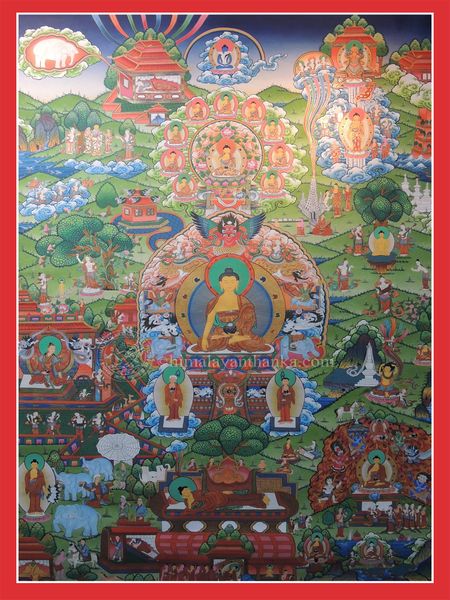 112x168 cm Buddha Life Thanka (SOLD OUT)
Status : SOLD But could be commissioned on request.
This beautifully painted thanka is of Buddha life done by a master using gold and color. It depicts different steps of life of buddha such as his birth, royal life, leaving palace in search of reasons of suffering, meditation, enlightenment, his teaching of dharma and nirvana.

Buddha, the enlightened one was born in Lumbini,Nepal nearly 2600 years ago as a prince Siddhartha. The Buddha life thangka depicts 12 major stages in Buddha's life which are as follows:
The Buddha pasing his throne to Maitriya Buddha, a bodhisattava to descend to earth from Tushita Heaven.




Mayadevi,Buddha's mother dreaming a white elephant and was conceived a buddha.




His birth and seven steps taken suddenly after his birth - lotus was sprung in each step.

His luxurious marital and royal life as a prince.

Four important stages of life seen outside the palace i.e. old age,sickness,death and sadhus.

Siddhartha leaving his palace secretly.

Cutting own hair to become a monk.

Meditating under bodhi tree.

Victory over the demons who tried to break his meditation.




Attainment of enlightenment.




First teaching given to five disciple in Sarnatha.

Buddha attained Paranirvana in Kushi Nagar.
If you wish to have silk brocade for this thanka visit Silk Brocading .

Note:

Please note that the actual colors of this thanka/Thangka Painting may vary due to differences in resolution.

If the size available here is not suitable for your shrine or place you want to keep please do not hesitate to provide us the detail about the size then we would commission as per your need and requirement.

If you want this Thanka/Thangka Painting in bulk please refer our "Wholesale" section or mail us at

himalayanthanka@gmail.com/

bijay2moktan@yahoo.com .
Reviews