68x91 cm Kuber / Zambala Thanka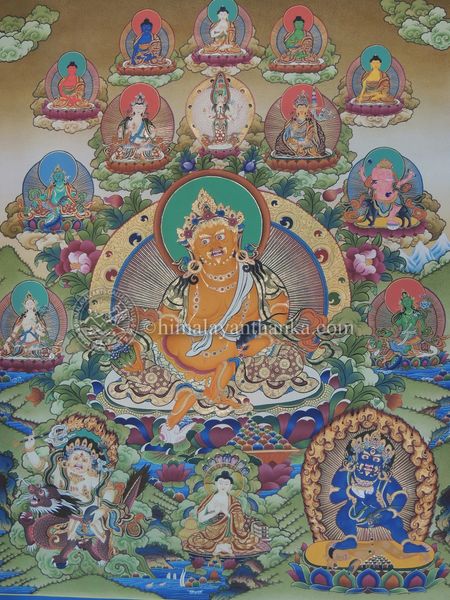 68x91 cm Kuber / Zambala Thanka
This beautifully painted thanka of Jambala / Kuber is done with intense care using real 24k gold and colors by a master.Each and every part of this thangka has fine details.
Jambala,Kuber is venerated as the god of wealth and prosperity. Iconographically, he is presented as fat belly holdin a mongoose on his left thigh that vomits jewels. He has different forms such as black kuber ,yellow kuber, green kuber, red kuber sometime all these kuber are shown as a set of five jambala.

If you wish to have silk brocade for this thanka visit Silk Brocading to give more traditional look.
Note:

Please note that the actual colors of this thanka/Thangka Painting may vary due to differences in resolution.

If the size available here is not suitable for your shrine or place you want to keep please do not hesitate to provide us the detail about the size then we would commission as per your need and requirement.

If you want this Thanka/Thangka Painting in bulk please refer our "Wholesale" section or mail us at

himalayanthanka@gmail.com/

bijay2moktan@yahoo.com .
Reviews