Buddhiman Tamang (Kaji)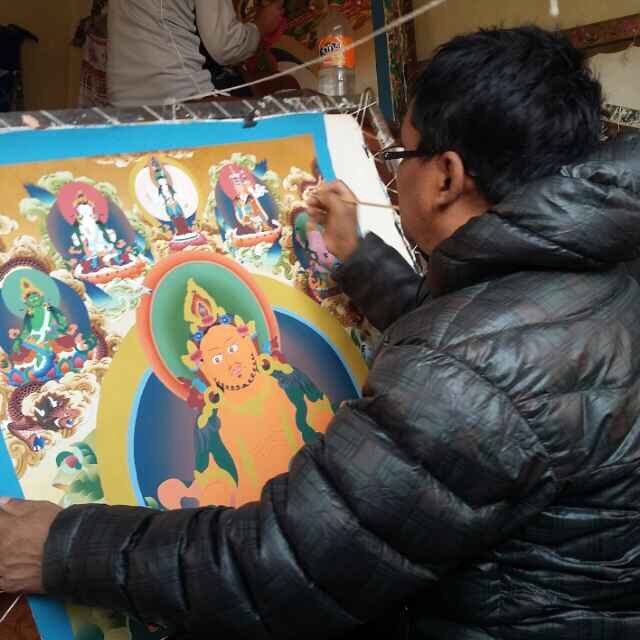 Buddhiman Tamang is popularly known as Kaji among his friends and families. He was born in 1962 in a small village Nagre Gagarche of Bagamati district to the east from the capital city, Kathmandu. He was born in an artist family so he was grown up seeing his grandfathers and father painting thangkas (scrollable sacred Buddhist arts painted on cotton canvas). At that time thangkas were not painted as commercially as nowadays. That was the time when khaibas ( the term used for thangka artists in Tamang language) were requested to paint thangkas for special rituals like death ritual. Upon visiting the khaiba one used to come with sagun, a kind of gift most importantly a bottle of raksi, locally brewed alcohol tied with khata (an auspicious silk scarf used in Buddhist culture) and seasonal fruits or edible vegetables. He then requests the artist to paint the thangka as suggested by a monk. Such scenes for Kaji were usual must importantly, he was attracted by the different forms of deities and designs. So he used to try to copy them by drawing on the stones while going to herding or collecting grass. Doing so was a great fun for him. Later at the age of 14/15 he started to learn proper techniques of thangka arts with his father and uncles.
After that he came to Kathmandu to learn more and to improve his skills with his friends. He compares Kathmandu of then and now. At that time, there were few houses more fields, few markets, much tranquil and tourism was not flourished like now. His thangka artist carrier stared from Swoyambhu with some senior artists. In spite of many ups and downs he is now one of the known thangka artists due to his dedication and hardship. Once he had lost hope that he would not paint the thangkas again because he was paralyzed. Hence, he stopped to paint. Though with family support and his inner will power he could re- feel the joy of the paint, brush and the spiritual power of painting thangkas. He feels painting thangka is not just an act of creating a piece of art but also a form of meditation too. He further adds concentration and intense care needed to paint thangka pacifies the mind.
His two sons and wife is also artist. His elder son owns an art gallery called HIMALAYAN ARTS GALLERY in Ashok Galli, Thamel (a popular touristic destination in Kathmandu). While younger son is showing his talent on the live canvas as a tattoo artist (works in Mohan's Tattoo). Kaji, he did not just learn the skills for himself but he is sharing all those skills to other art lovers as well. He provides free thangka classes to the young people from financially deprived communities. Doing this he feels satisfied. He believes helping other is a good karma because it brings some happiness in others' life.
For him thangka paintings or art is not an image we see on the canvas, it is a special sacred art which carries glorious pride and histories, philosophies of Buddhism and contentedness of the Buddhist people and tradition. It does not teach you just the techniques and style of Buddhist art. Moreover, it teaches you a very important lesson in life i.e. patience. As mentioned earlier painting thangka is a sort of meditation which demands determination and patience.